Dr. Balasaheb Vikhe Patil Rural Medical College - Medical Education Unit (MEU)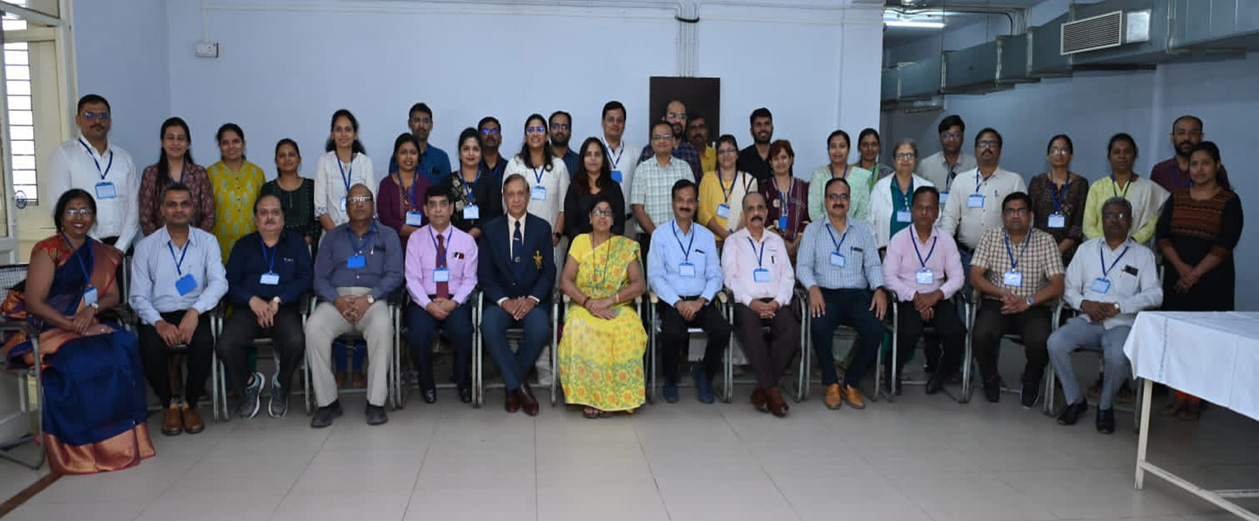 BCME From 17-08-2023 to 19-08-2023
---
---
Officer-in -charge : Dean, Dr. Balasaheb Vikhe Patil Rural Medical College, Loni
Coordinator
: Dr. D. B. Phalke, Professor & Head Community Medicine, FAIMER 2011 fellow, ACME 2015, GSMC MCI NODAL CENTER, Mumbai
Objective:
It was established as per directives of Medical Council of India, New Delhi for sensitization of teachers in medical education technology for developing skills required for good teacher, clinician, researcher and mentor.
Activities: Read More..

Organizing Basic course workshop in MET for faculty under MCI regional center, MUHS, Nashik
Resource center for students and faculty
Implementing Innovative teaching learning practices including students research projects, problem based learning, community oriented medical education, participation in public health days, organizing quizzes, students research conference etc.
To conduct foundation course for first MBBS from 2019 Batch.
To conduct CISP and other workshops for implementation of CBME.
Organizing orientation programs for undergraduates, interns and postgraduates
Role of MEU
Faculty development
Curriculum development and reforms
Basic training in education technology
Rational use of education and information technology
Advanced training
Research in medical education
Grooming teachers to play additional roles
Innovative teaching learning practices
Infrastructure
Training hall with LCD projector, PA system, computer with internet connectivity, Two international journals, 26 books on medical education,68 educational CDs, 76 operation CDs
List of Journals & Books on Medical Education Technology in Central Library

---
Annual Reports of Medical Education Unit
---
MEU Faculty : Read More..

| | | | |
| --- | --- | --- | --- |
| Sr.No | Name of Faculty | Designation | MET Training |
| 1 | AVM (Retd) Dr. Rajvir Bhalwar | Dean, Dr. Balasaheb Vikhe Patil Rural Medical College | Curriculum Implementation Support Programme (CISP) |
| 2 | Dr. D. B. Phalke | Coordinator, MEU ,Professor & Head, Community Medicine | FAIMER2011 Fellow, GSMC, Mumbai ACME2015, GSMC, Mumbai RBCW, AETCOM, CISP |
| 3 | Dr. V. B. Bangal | Professor & Head, Gynecology | FAIMER fellow 2013 GSMC, Mumbai;ACME 2015, GSMC, Mumbai; RBCW, AETCOM, CISP |
| 4 | Dr. G. J. Jorvekar | Professor & Head, Surgery | FAIMER fellow2014, CMC Ludhiana RBCW, AETCOM, CISP |
| 5 | Dr. P. K. Baviskar | Professor, Surgery | ACME 2015, GSMC, Mumbai; RBCW, AETCOM, CISP |
| 6 | Dr. K. N. Dandekar | Professor, Surgery | FAIMER fellow 2012, GSMC, Mumbai; NTTC 2011 JIPMER; Advanced MET, IMETTT, Aundh, Pune; RBCW, AETCOM, CISP |
| 7 | Dr. Sandeep Pakhale | Professor, Anatomy | ACME 2014, DMIMS, Sawangi,RBCW, AETCOM, CISP, |
| 8 | Dr. Brig. P.S. Bhat | Professor & Head Psychiatry | ACME 2018,GSMC, Mumbai; RBCW,AETCOM, CISP |
| 9 | Dr. Mohan Pawar | Professor & Head FMT | ACME 2019,GSMC, Mumbai; RBCW,AETCOM, CISP |
| 10 | Dr. Motilal Tayade | Professor, Physiology | ACME 2015, GSMC, Mumbai; RBCW, AETCOM, CISP |
Workshops on Medical Education Technology / HPE / BCME (2009 to 2023):
Sr. No
Dates Teaching
Admin
Professor
Associate
Professor
Assistant
Professor
Tutor
Total
1
27/7/2009 - 1/8/2009
02
04
05
10
21
2
1/2/2010 - 6/2/2010
05
09
04
01
19
3
18/8/2010 - 25/8/2010
02
11
03
05
21
4
17/1/2011 - 22/1/2011
04
09
02
06
21
5
25/7/2011 - 30/7/2011
06
03
05
09
23
6
19/1/2012 - 14/1/2012
03
04
04
09
20
7
25/11/2013 - 27/11/2013
10
04
04
01
19
8
7/7/2014 - 9/7/2014
02
09
06
06
01
24
9
27 /1/2015 – 29/1/2015
05
03
17
--
25
10
15 /10/2015 – 17/10/2015
02
05
10
10
--
27
11
10/01/2017-12/01/2017
--
10
03
17
--
30
12
28/01/2019-30/01/2019
02
01
05
10
08
26
13
17/08/2023-19/08/2023
--
10
08
12
--
30
Total
06
72
87
99
50
306
Other Workshops organized :
| | | | |
| --- | --- | --- | --- |
| Sr.No | Date | Workshop | Total |
| 1 | 6/10/2016 to 7/10/2016 | Workshop on Newer Evaluation Methods for Faculty | 22 |
| 2 | 3/2/2017 | Workshop on use of ICT in Teaching Learning for PIMS Faculty | 24 |
| 3 | 8/12/2017 to 10/12/2017 | Values of Health Care - A Spiritual Approach Workshop for Faculty | 24 |
| 4 | 28/6/2019 to 30/6/2019 | Curriculum Implementation Support Programme (CISP) | 30 |
| 5 | 19/07/2019 | Sensitization workshop on CISP | 30 |
| 6 | 01/08/2019 to 31/08/2019 | Foundation Course for First MBBS | 200 |
| 7 | 07/10/2019 | Guest Lecture by Dr. Carina From KI Sweden | 20 |
| 8 | 03/12/2019 | Workshop on Assessment in CBME for preclinical faculty | 30 |
| 9 | 04/09/2020 | Sesitisation in CBME and CISP For Paraclnical Faculty | 40 |
| 10 | 09 to 10th OCT 2020 | CISP-II Workshop for RMC Faculty under MUHS MCI Regional Centre | 30 |
Future plans
Organize CME and guest lectures of eminent National and International faculty in Medical Education for faculty and students
Develop"State of the Art" skill laboratory for training of UG & PG