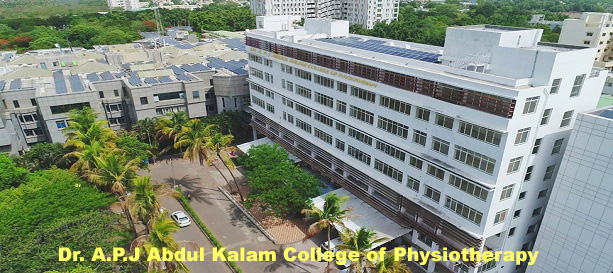 Dr. A.P.J. Abdul Kalam College of Physiotherapy
Physiotherapy Program
The Department of Physiotherapy was established in 1976 at Dr. Vitthalrao Vikhe Patil Pravara Rural Hospital to cater to the preventive, curative, therapeutic and rehabilitation needs of the rural people. Need was felt to impart the much needed physiotherapy training programme and hence Dr. APJ Abdul Kalam College of Physiotherapy (Formerly Knows as "College of Physiotherapy") was establsihed in 1997 to achieve this obejctive. College of Physiotherapy was established in 1997 to achieve this objective.
The college was affiliated to University of Pune in 1997 and later to Maharashtra University of Health Sciences (MUHS), Nasik from 1998 to 2003. With the status of "Deemed University" awarded to Pravara Institute of Medical Sciences in 2004, the College became a constituent unit of PIMS-DU.
"Indian Association of Physiotherapists(IAP)", "Rehabilitation Council of India(RCI)" and "Maharashtra State Council for Physiotherapy & Occupational Therapy" have recognized the College.
Vision :
:
To become an outstanding Physiotherapy College that provides urban facilities to the rural people as stated by Dr. A.P.J. Abdul Kalam in his vision.
Mission :
To offer value based Physiotherapy education and Evidence Based Physiotherapy services.
Goals :
To be recognized as one of the Leading Institute of Higher Learning in India.
Quality management and high level of patient care.
Health awareness and education.
Accessible rehabilitation services.
Quality Physiotherapy education and training program for Physiotherapy students.
Ethics and accountability at all levels (clinical, professional, personal and social)
Commitment to professional excellence
Social accountability and responsibility
Scientific attitude and scholarship
The College offers Undergraduate programme in Physiotherapy (
B.P.T.
) since inception.
Postgraduate program in Physiotherapy leading to Masters in Physiotherapy (
M.P.T.
) commenced in academic year 2005. Masters programme is offered in following five specialties;
Doctor of philosophy (Ph.D)
programme in Physiotherapy commenced from academic year 2010-11.
Teaching Learning Program :
Practical training to students is imparted at state of the art Physiotherapy and Rehabilitation center where students get hands on training under the expert faculty of 800 bedded multi disciplinary tertiary care Dr. Vitthalrao Vikhe Patil Pravara Rural Hospital. Students expand their horizons of therapeutic and rehabilitative concepts through involvement in community based rehabilitation programs and other "outreach" activities.
Students participate in various Physiotherapy camps, community activities and rehabilitation projects sponsored by Govt. of India and other International agencies. Students also immensely benefit from observational and educational visits organized to Schools for Disabled, NGO Projects and Rehabilitation Homes in the State.
Curricular:
The students are trained in basic as well as advanced Physiotherapy techniques in various specialties that include Intensive and Critical Care units, Cardio-Respiratory & vascular, Neurology, Orthopaedic, Manual therapy, Sports, Yoga, Pediatrics, Women's Health & Community Based Rehabilitation & Palliative Care.
We believe more in Interactive learning rather than didactic lectures. Patient bed side teaching & Problem based learning, Peer Assisted Learning; Group discussions are essential components of learning.
Co-curricular activities:
Integrated seminars, guest lectures and workshop are regularly organized and conducted for all the students on various occasions and students are motivated to participate actively in these activities
Extra-curricular activities:
Third & final year students along with Post-Graduate students are involved in various co-curricular and extra- curricular activities such as visit to various handicapped & geriatric (old age home) centre and industrial visits, awareness camps in small villages and schools, Medical Diagnostic camps along with a medical team in various parts of Maharashtra.
Students are also doing Physiotherapy awareness through Role plays, Tele-Rehabilitation through Skype & Radio program to reach maximum public of Ahmednagar district.
Dr. APJAK COPT has tailored Debate & World CAFÉ approach as teaching learning methods.
Students are encouraged and motivated to participate in various sports & cultural activities in our Institute as well as at District and State level. They are provided with all the facilities and training.
The under graduates & post graduates have been getting good placements not only in Maharashtra but at various Institutes & hospitals at National & International levels.
International Scholarship
Students of our College received International scholarships for higher studies at European universities. Pravara Institute of Medical sciences participate with Erasmus Mundus scholarship programme (EMECW-15). Under this programme, Students and faculty from both sides receive International scholarship which covers transportation, Hostel facility and tuition fees for higher studies in partner universities.
Following students of physiotherapy received international scholarships;
| | | | |
| --- | --- | --- | --- |
| Name of student | Druation | University | Course |
| Miss. Bhatnagar Megha | 1 August 2009 to August 2011 | Nowergian University,Norway | Sports Science |
| Miss. Priyanka Pramod Diwadkar | 1st Sept. to 26th Feb. 2010 | Vilinus University, Lithuonia. | Public Health |
| Miss.Prajakta Gawade | 1st Sept. to 26th Feb. 2010 | Vilinus University, Lithuonia. | Public Health |
| Mr. Milind Masetrao Khobaragade | 1st Sept. 2010 to 30th Jan. 2010 | Lund university, Sweden.. | Public health |
---
Student exchange (2018) under the Linnaeus Palme scholarship programme at Physiotherapy Division, Karolinska Institute, Sweden - Activity Report - click Here
Activities :
World Physiotherapy day Report :
Reports On Activities Conducted On World Arthritis Day 2023 by Better Management of Osteoarthritis(BOA) unit:
Activities At A Glance: