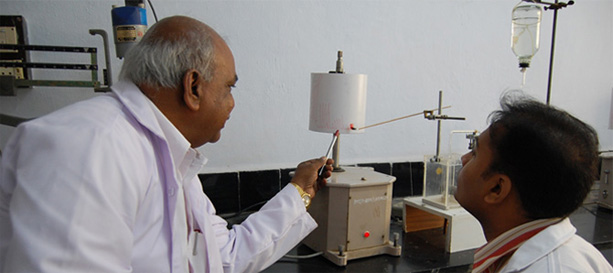 Dr. Balasaheb Vikhe Patil Rural Medical College - Department of Pharmacology
Introduction :
Dr. Balasaheb Vikhe Patil Rural Medical College Loni was established in the year 1984 . The department of pharmacology initiated its teaching activities one and half year later .
The department caters services to undergraduates of Medicine, Dentistry , Physiotherapy & Nursing faculty.
In addition to services for undergraduates department of pharmacology also shoulders the responsibility of teaching and training postgraduate students of pharmacology.
The department is actively involved in need based research in the applied pharmacology and therapeutics.
Vision
Evidence Based Education & Need Based Research in Pharmacology
Mission
To impart an effective academic research and training activities,for undergraduate and post graduate students.
The department aims at equipping students with the knowledge of rational drug therapy, its importance and application.
The department aims to train the budding doctors with knowledge of correct prescription writing and its medicolegal importance.
The department aims with the postgraduate training in order to excel them as good academicians or a research scholar.
The department aims to undertake the research activities to develop the cost effective drugs to meet the needs of the poor socioeconomic class.
Goals:
Enable the students to acquire the understanding of pharmacodynamics, pharmacokinetics of drugs, their therapeutic implication in clinical practice and study of their safety profile.
To understand pharmacology in depth with understanding of the rational use of drugs ,clinical pharmacology and to prepare good quality teachers.
Introducing students to advances in teaching technology,computer Aided
Learning, internet patent laws and procedures etc.
To orient students for research & developments.
The overall goal of the course is to develop expertise in the field of Pharmacology.A process of rational thinking and cogent action will be inculcated in an individual so that he/she shall be competent to pursue various activities as demanded by the profession as Pharmacologist.