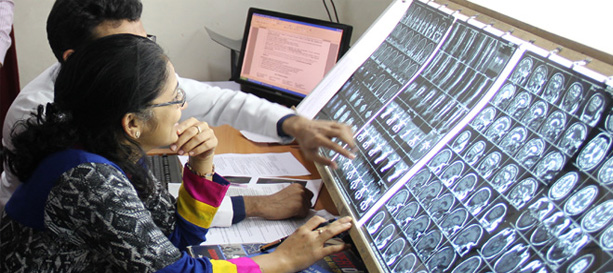 Dr. Balasaheb Vikhe Patil Rural Medical College - Department of Radiodiagnosis and Imaging
Introduction
The foundation of educational and health care services can be traced back to the establishment of Pravara Medical Trust in 1972 and subsequent opening of the Dr. Balasaheb Vikhe Patil Rural Medical College, Loni in June 1984 to fulfil its promises of not only providing world class health care for the people, but also to provide excellent educational facilities for students from across the country.
The Radiodiagnosis Department, which started as an X-Ray Department way back in 1976 with a single 60 mA X-Ray machine, now boasts of fully equipped and modernized Imaging Department catering to all the branches of the hospital as well as trains and teaches the students.
The Radiodiagnosis Department first established itself as a teaching department with the induction of Post-Graduate Degree & Diploma candidates in July 1991 which were recognized by the MCI in 1998 vide letter no. MCI-87(22)1998/MED/21440 dated 12/11/98 and subsequently vide letter no. MCI-87(22)/2008/MED/44446 dated 24/01/09. Since then the department has produced some of the finest radiologists across the country indicating the quality of education and magnamanity of experience received here.
The department has all modern diagnostic facilities like 1.5 Tesla MRI scanner, CT scanner, diagnostic x-ray equipments with IITV facility, ultrasound, Colour Doppler, 3D -4D USG and mammography machine. Recently PACS system was installed for communication of images and patient reports within various departments of the hospital. DSA facility is being installed in the department. The department gives 24 hrs diagnostic and emergency services to cater to the needs of rural population in the region in and around Loni (western Maharashtra). The diagnostic services provided are at reasonable rate and most of the indoor X-ray and USG examinations are done free of cost. The department offers courses like MD and DMRD in the subject of radio-diagnosis. The department is located in main OPD building and occupies an area of 2081.90 sq.m.
Mission Statement
To provide advanced multi imaging services of the highest quality.
We are committed to deliver accurate and timely diagnostic information so that each and every patient receives the best medical care. We are also committed to provide outstanding education and high quality research so as to deliver to our medical students, graduates and post graduates resident the best possible training and aim to achieve the highest levels of professional excellence.
Our vision is to make the Department of Radio-diagnosis and imaging Sciences in the country. It shall be our endeavor to be recognized as an integrated multidisciplinary centre for diagnostic, therapeutic and academic excellence in the field of Radio-diagnosis and imaging.

Modern diagnostic equipment facilities
300 mA X-ray machine, 500 mA with IITV facility and mobile x-ray machines.
Fuji Computed Radiography system. (CR system)
Fuji Picture Achieving and Communication System (PACS)
X- ray mammography.
Whole body CT scan(GE Sytec 2000i)



Ultrasonography facilities (Three USG machines with one of them with Color Doppler facility and 3D - 4D Facility)
Whole body 1.5 Tesla MRI


Advanced services offered by department
4-D Ultrasonography.
Peripheral vascular Doppler ultrasound.
Musculoskeletal ultrasound.
CT guided biopsies
USG guided interventional studies.
MR spectroscopy.
MR angiography.
Whole body MRI with DWIBS

Future Action plan
Digital Subtraction Angiography (DSA)
To Install 16 SLICE MULTI DETECTOR CT SCANNER.
To Commission DIGITAL RADIOGRAPHY SYSTEM
Second Phase Extension Of Existing Pacs System To Hospital Wards.