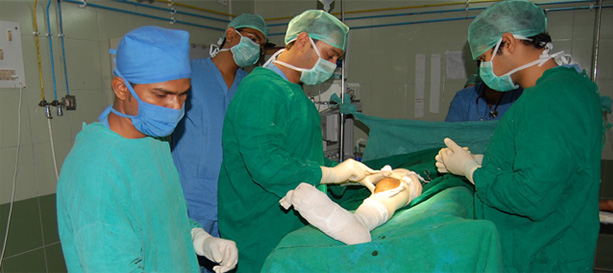 Dr. Balasaheb Vikhe Patil Rural Medical College - Department of Orthopaedics
Introduction
Department of orthopaedics of Dr. Vitthalrao Vikhe Patil Pravara Rural Hospital is a major department established in 1985 .
Dealing with IPD, OPD and causalities like trauma, road traffic accidents and various congenital & acquired disorders in orthopaedics.
In addition to these activities department also deals with teaching, training, research activities. Department of orthpaedics also contributes in social activities like multidiagnostic camps as well as minicamps arranged throughout year around 100 kms of LONI.
Postgraduate Teaching Programme
We aim to provide comprehensive knowledge & training of the subject to Postgraduates. Also provide an opportunity to the trainees for the developing skills and promote the strong desire to reach for the Excellency in subject
Services Offerd By Department
OPD SERVICES: for common orthopaedic conditions like low back ache, neck pain, knee pain treated with medication, physiotherapy and traction and FOR TRAUMATIC CASES plaster cast, plaster slab, application immobilization splints
CASUALTY SERVICES: for trauma cases services like wound suturing, debridement of wounds, dressing, and knee aspiration, all kind of upper & LOWER limb fractures are treated with conservative treatment like plaster slabs, casts, and immobilization splints.
OPERATIVE SERVICES: like internal fixation plating & nailing, external fixation for traumatic cases, all kind of congenital & acquired orthopaedic cases are treated with operations,
EXCISION OF BENIGN, MALIGNANT BONE TUMORS for conditions like synovial sarcoma, osteosarcoma, gaint cell tumor.
PEDIATRIC ORTHOPAEDIC SERVICES like CTEV correction by ponsetti's technique of serial cast application, cervical rib excision, and ender's nail fixation for long bone pediatric fractures cerebral palsy treated with physiotherapy &operative interventions
Speciality Clinics And Services
HIP AND KNEE JOINT CLINIC -- MONDAY AT 9AM TO 1PM & 2PM TO 5Pm
SPINE CLINIC -- WEDNESDAY AT 9AM TO 1PM & 2PM TO 5Pm
ARTHROSCOPY CLINIC -- FRIDAY AT 9AM TO 1PM & 2PM TO 5Pm
PAEDIATRIC ORTHOPAEDIC CLINIC- SATURDAY AT 9AM TO 1 PM
Advanced Services Offered
Total Hip & Total Knee joint replacement surgeries.
Knee joint Arthroscopies –

Diagnostic arthroscopies for suspected ACL tear, PCL tear, Meniscal injuries,
Therapeutic arthroscopies like ACL & PCL reconstruction , meniscectomy, meniscal repair , joint debridement & lavage

spinal surgeries :

Laminectomy ,Discectomy are done for degenerative disc disease
spinal instrumentation is done for cases like Spondylolisthesis & traumatic spine fractures
cervical Discectomy for cervical disc disease
Speciality Equipment
IMAGE INTENSIFIER ( 1.SIEMENS MULTIMOBILE 5D+ 2.MEDITRONICS HIGH FREQUENCY)
ARTHROSCOPE CONTAINING 30 * STORZ ARTHROSCOPE DYONICS OCCILLATION SHAVER
Departmental Extensional Activities
Faculty and residents of department take action part in multidiagnostic camp in rural area arranged by pravara medical trust A helping hand to the physically challenged
Department of orthopaedics was one of the active participent of this endeavour which was undertaken by pmt in october 2005. During this event, on the occasion of 75 th birthday of dr. A.p.j.abdul kalam, floor reaction arthrosis (fro) calipers were distributed to 1500 physically chalenged children.
Thrust Areas Of Reasearch
Hip & Knee joint replacement
Knee joint Arthroscopy
Spinal Disorders
Paediatric Orthopaedics
Complex Trauma
Future Plans Of Department
Extending Speciality Clinics To Phc & Rural Areas
Development Of Spinal Surgery Centre
Development Of Joint Replacement Centre For Hip And Knee Joint Replacement Surgeries.
Development Of Specialised Trauma Centre