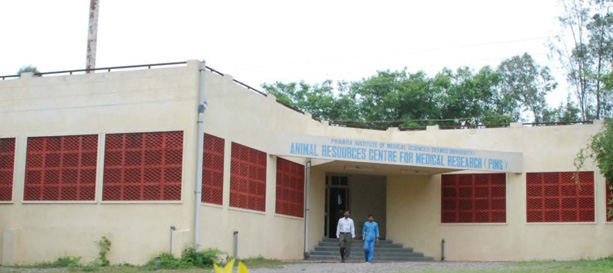 Dr. Balasaheb Vikhe Patil Rural Medical College - Infrastructure Available
Campus:

Unitary Campus for hospital and college
Area: 120 acres of land having room for further expansion.

Administration block:

Total layout & floor Area of the college: 24715.58 + 1208.07 (Admin) sq.mtrs.
New Lecture & Examination Hall Complex 36768.36 sq.mtrs.
Total Layout & floor area of hospital (wards) : 29730.67 sq.mtrs & OPD 13180.46 sq.mtrs .
Surrounded by greeneries and lawns.

Central Library:

Spacious Reading rooms with sitting capacity of 350 students, well lighted and ventilated
No. of Books - 28624
No. of Journals subscribed annually -319 ( National 133 International 186 ) With back volumes
Online medlar information database are available through dedicated leased line internet (Separate A/C rooms)
Medline CDs on stand alone module basis
Photo copy facility

For More Details about Central Library click here....

Lecture Theatres:

Six (06) Lecture Hall in college with good acoustics, Audio visual aids & Microphone

two with 240 student capacity (Gallery type).
One with 350 students capacity (gallery type).
One with 500 students capacity (gallery type).
Two with 184 students capacity (gallery type).

One lecture hall in Hospital with 300 students capacity (Gallery Type) with good acoustics, Audio visual aids & Microphone .
55 demonstration Rooms / Clinical Demonstration Rooms

Nine (9) of pre-clinical department
Fifteen (15) of Para-clinical departments.
Thirty One (31) 31 of Clinical Departments.

Practical Laboratories
Common Room : With 200 sq.mtrsarea for girls and boys seperately with attached toilet. Practical Laboratories
Skill Lab : Available as per norms
Computer Lab : Available as per norms
Auditorium

Auditorium with capacity of 1200 with central AC & balcony

Examination Halls : 03

Two with total seating capacity of 250 students
One with seating capacity of 400 Students.

Central Photographic section & Audio Visual Section:

Modern and well equipped with facilities of studio, dark room etc.

Central Workshop

Well equipped independent workshops for repair of mechanical, electronics & electrical equipments.

Animal House:

CPCSEA approval Central Animal House.
Total area 8250 sq. fit.
Breeding and supply of animals.
Facilities for animal experiment and research.

Incineration plant

Commensurate with hospital bed strength.

Statistical Unit:
Medical Education Unit :

Dept is equipped with adequate facilities.
Internal connectivity for staff.

Intercom Network :

Entire campus is provided with intercom facility

Recreation Facilities:

Outdoor - Lawn tennis court, Basketball court, volley ball, Football, Cricket ground, swimming pool of Olympic standard
Indoor - Chess, Carrom, Badminton court , Table tennis and Modern Gymnasium.
Physical Education instructor.

Canteens & Mess

One canteen for Staff
TwO canteen for Students
Mess facility in every hostel.

Medical Facility For staff and students.

Free Medical Treatment at Dr. Vitthalrao Vikhe Patil Pravara Rural Hospital.
Special Rooms available.
Free treatment to dependent of Staff.

Electricity - Continuous electricity supply for the campus with

Three generators of 750 KV.
Two generators of 500 KV.
One generators of 250 KV.

Sanitation & Water supply

Adequate sanitary facilities
Safe and continuous water supply .