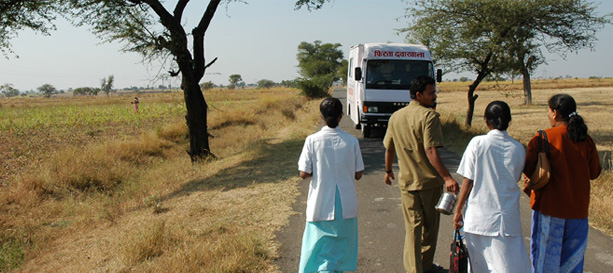 School of Public Health and Social Medicine (SPHSM)
Social Medicine encompasses all dimensions and disciplines that effect the human health, hence it is multi-disciplinary & multi-dimensional.
The recognition that the discipline of Preventive and Social Medicine (PSM), Community Dentistry, Community Nursing, Community Physiotherapy does have limitations to address all the societal needs in a holistic approach and hence needed to be strengthened was the major impetus for establishing a separate School of Public Health and Social Medicine (SPHSM).
Extension activities involving agricultural, technical, educational, vocational, development sectors are difficult to integrate in the present set up.
Development of peripheral health workforce (except medical doctors) and non-formal education is beyond the purview of Department of Community Medicine.
Hence a greater scope for full pursuance of discipline of "Social Medicine" to demystify medicine and focus on positive health has been felt under "Faculty of Allied Health Sciences."
The CSM was set up by Pravara Medical Trust, Loni and Pravara Institute of Medical Sciences (PIMS), Loni as a separate Unit in the year 2001, outside the confines of a medical, dental, nursing and physiotherapy colleges so that it could enrich itself through wider interaction with the various disciplines of medicine, allied health sciences, natural and social sciences and community groups. The Center was recognized as a Constituent Unit of Pravara Institute of Medical Sciences – Deemed University by Ministry of HRD, & UGC.
The Mission
To support and encourage interdisciplinary research, training, and services in the field of social medicine and community development for the benefit of students, faculty and the needy community at large.
The Vision:
The vision is to be a leading Center of Excellence in Social Medicine, health equality and community development.
The Objectives:
To understand the health problems and needs of the rural and other vulnerable sections of the community with a view to find workable solutions in the existing social structure.
To delineate the structural constraints which limit the scope of health interventions in the community.
To train and nurture the students in the field of social medicine, rural health and allied health sciences.
To conduct and promote research & scholarship in social medicine and allied sciences
To provide comprehensive community oriented primary health care to the needy
To bring behavioural changes and empower people for their health and development.
To develop networking and partnership with individuals and organizations
The Approach
The CSM collaborates with faculty, staff and students from various departments and academic programmes across the University including medicine, dentistry, nursing, physiotherapy, biotechnology, bioscience management, ayurveda etc. The Center also encourages international, national, regional, and community partnerships to foster a culture of interdisciplinary team work and a community of scholars at the cross roads of health and social sciences.
Core Competencies
The following core competencies that are required to achieve the objectives of the Center are drawn from within the constituent institutes of the University and sister institutes in the area.
Community Medicine
Epidemiology & biostatistics
Population studies & demography
Occupational health & agricultural medicine
Natural and Environmental Sciences
Social Sciences – Sociology, Anthropology, Psychology, Behavioural Sciences
Psycho-immunology (meditation and yoga)
Biotechnology, Bioinformatics and Information technology
Management Sciences
Health Financing and Economics
Broad Areas of Activites
The Center follows interdisciplinary and inter-sectoral approach and functions under six main thrust areas:
Community & Social Health Interventional Research
Community Oriented Primary Health Care & 'out-reach' activities
Education & Training (Formal, Informal, Vocational, Self-employment/Skill-development/ transfer)
Advocacy & Behavioural Change Communication
Information and Communication Technology (e-health, e-empowerment)
Networking & Collaborations – Global, National, Regional
Training and Education
The Center offers Master of Public Health (MPH) course - innovative and first of its kind courses. The main trust of the Centre however is to offer short term Vocational and Skill based / transfer training programs for the rural health workers and community at large. The Centre conducts empowerment programmes to village women, school teachers, anganwadi workers, traditional healers, and traditional birth attendents. The Center also conducts training and demonstration on eco-friendly environemnt, healthy village, health promoting schools, medicinal gardens etc to farmers, village leaders, school teachers. and self employment training and promotion to women, drop-out girls, HIV/AIDS widows.
Details of students from USA completed "Certificate in Social Health and Development"
Self Help Group and PLW HIV/AIDS group
The Center is continuously working for the empowerment of rural woman through Women Self Help Group. The Center is also working for the empowerment of the people living with HIV/AIDS. The self help groups were trained in various self employment schemes. Following are the details of the self employment schemes
Vermi Composting Production Units : 100 SHG
Plant Nursery Production & Distribution Units :40 SHG
Drone Production & Distribution Units : 03 SHG
Supplementary/Nutritious Food Preparation Units (Floor mills) : 10 SHG
Hosiery/Embroidery/Ready Made Garments Units (Sewing Machines) : 05 SHG
Spirulina Production & Demonstration Units: 04 SHG
Detergent Powder (Shubhra +) Manufacturing Units : 04 SHG
Candle Making Units : 02 SHG
"Shakti +" Preparation Units : 06 SHG
Kitchen Garden Set Preparation : 01 SHG
Schemes on Traditional Products (Brooms, Nachani Papad, Honey bee ) : 60 SHG
---
Empanelled for Health Research by NHSRC
PIMS has been empanelled by National Health Systems Resource...
..to know more Click here......

Empanelled for Health Research by SHSRC
PIMS has been empanelled by State Health Systems Resource ..
..to know more Click here......

YASHADA, Pune Empanels PIMS as Evaluation Agency
Yashwantrao Chavan Academy Of Development Administration (YASHADA), Pune – an apex training academy of Government Of Maharashtra, has empanelled PIMS ..
..to know more Click here......
---
Details of Community Research and Extension Projects from External & Internal funding during 2009-13