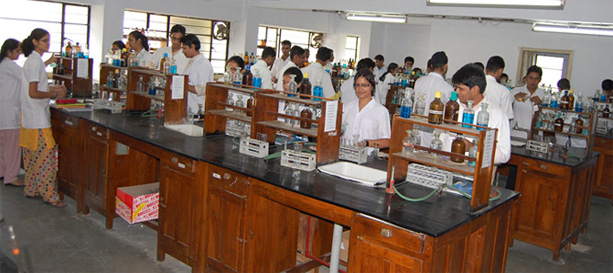 Dr. Balasaheb Vikhe Patil Rural Medical College - Department of Biochemistry
Mission:
Department of Biochemistry will strive for achieving excellence in fields of medical education and clinical laboratory services providing holistic education inclusive of up to date knowledge and research in the filed of Biochemistry, compassion and courtesy for patients, with an ultimate aim to fulfill the mission of this University.
Department of Biochemistry with build up area of more than 6400 sq feet is situated at Dr. Balasaheb Vikhe Patil Rural Medical College and Dr. Vitthalrao Vikhe Patil Pravara Rural Hospital, Loni.
The department is involved in teaching, diagnostic and research activities. The department is involved in teaching Medical Biochemistry the students of various courses viz. (MBBS, BDS, DMLT, BPTh, BSc (Nursing), and Post Basic Nursing). The goal of teaching biochemistry to undergraduate students is to make them understand the scientific basis of the life processes at the molecular level and to orient them towards the application of the knowledge acquired in solving clinical problems.
The department is having a qualified and highly experienced and dedicated staff as per the norms of Medical Council of India .
The department is well equipped with routine and specialized equipments necessary for training students and to carry out research. The department has 101 standard text books and reference books. The department has large collection of educational CDs and standard teaching material prepared by the faculty.
Total 7 foreign journals and 4 indian journals related to biochemistry are available in Central Library.
The teaching learning aids like LCD and computer is available from the Education, Communication and Media Center of Dr. Balasaheb Vikhe Patil Rural Medical College.
Continuous evaluation of students is carried out in the various formats of tests involving answering various types of questions viz. MCQs, SAQs, Short Notes, Long Question Answer, Case Oriented approach and Viva voce. Emphasis on small group teaching and group discussion is encouraged. Performance of the individual student is evaluated and discussed individually and remedial measures are taken.

Problem Based Learning
One of the method of learning, the Problem Based Learning ( PBL ), a students group activity ( facilitated by a facilitator ) is utilized for the students by giving them real life scenarios and stimulating them to collect relevant information and application of it to arrive at conclusion. The department has established the Mentor System with the students to solve their problems.
Research
The department is actively involved in the research activities. Department has completed a project, "Prophylactic efficacy of L reuteri in childhood diarrheas in rural community of India" sponsored by BioGaia Biologics (Nutrition Division), Lund, SWEDEN.
The thrust area for research is clinical biochemistry and polyherbal preparation of indigenous medicinal plants in experimental models for arthritis, diabetes, hepatotoxicity and radioprotection.
Three research projects are completed and faculty is involved in carrying out 9 research projects.
The clinical biochemistry section of the department is involved in providing round the clock service to the indoor and outdoor patients. On average 2 lakhs biochemical investigations are carried out yearly. CCL is participating in the external quality control program of Christian Medical College, Vellore.
The equipment available in clinical biochemistry laboratory are 2 semi auto analyzers, 2 electrolyte analyzers and 2 blood gas analyzers apart from gamma counter used for radioimmunoassay for hormones.