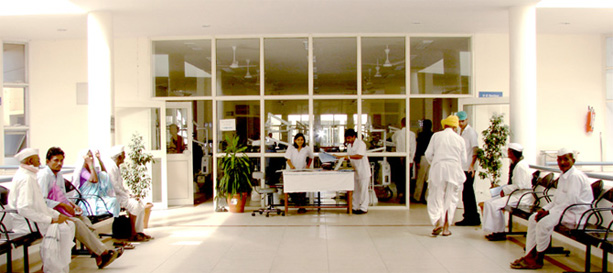 Prosthodontics and Crown & Bridge Department
Prosthontics is that of Dentistry pertaining to the restoration & maintenance Of oral function, comfort, appearance & health of the patient by the restoration of natural Teeth and or replacement of missing teeth & craniofacial tissue with artificial substitutes.
The Department of prosthodontics at Rural Dental College ,Loni .Offers a Graduate and three year postgraduate program leading to a Master of Dental Surgery Awarded by the Pravara Institute of Medical Sciences , Loni. The advanced training Program in prosthodontics is approved and accredited by the Dental Council of India .
The Department of prosthodontics deals with a wide array of problems Encountered such as edentulism partial loss of teeth, Jaw joint problem and crippling Loss of craniofacial structures and are treated using modalities such as complete dentures, Fixed prosthesis , Maxillofacial Prosthesis & Dental and Maxillofacial implants to name a Few . The current focus today in on preventive prosthodontics and the research projects Carried out in our deparetment focus on the less explores , but much needed aspects of Prosthodontics.

Mission and Vision
To Develop individual in to dentists who are not just individual who are professionally Trained , but also high in moral and ethical values , imparting profound integrity & character to every endeavour that deal with , not only in our institution but in the society at large .
Goals of the Department :
Thew goal of prosthodontics program is to provide basic & advanced education in Prosthodontics for an improved understanding of prosthetic rehabilitation & Restoration of tooth structures.
To increase cognitive skills in management of geriatric & general patients.
To transform the nature of dental education and particle in ways that will dramatically improve the way we serve our students, our patient & the surrounding community.
Teaching Program :
The educational programs in prosthodontics are extensive & courses for dental student, Interns & Post graduate students.
Undergraduate Education in prosthodontics for Dental student :
This program provides lectures , seminars, clinical experience and clinical teaching in the period of five year dental curriculum, Student are exposed to a wide range of patients with prosthetic problem and all student get extensive pre-clinical & clinical experience in the department .
Clinical practice involves exposure to completete denture cases removable partial dentures & Introduction to fixed partial dentures.

Postgraduate Residency Program in Prosthodontics :
The goal of Prosthodontics residency program is to provide advanced education in prosthodontics to highly qualified graduate dentists who are interested in a career or specialized practice teaching &research.
The program requires a minimum of three academic year for completion . A high level of advanced clinical skill and completion of curriculum broadly representative of basic & applied science is required original research and dissertation in any of a number of related fields are required and may be undertaken on problems relevant to prosthodontics. The principle of scientific research design and evaluation are emphasized .
The program devotes a considerable portion of time , to advanced basic science courses speciallyorganized to serve as a prerequisite to the through understanding of the clinical problem In prosthetic rehabilitation in the clinical area the student is exposed to different & challenging maxillofacial & prosthetic rehabilitation cases through independent study demonstration & practice.
The course also involves development of technical skill involving handling of sophisticated & technique sensitive equipment such as IPS Impress kit , Metal free Ceramics & State of the art laboratory equipment .
A series of seminars and lecture course are available each quarter . The student can discusss with the program director his /her interest & needs & all effort will be made to tailar the program to meet such needs.
Dental Mechanics Program :
Dental Mechanics program prepare the student for careers in Dental Mechanics. The mission of the dental Mechanics program is to partner with student to achieve academic excellence Promote scholarly activity & research , utilizing critical thinking & evidence based decision making skills.
As goals , the program will prepare a competent Dental Mechanics program that develop fine technical skills in handling various Dental Materials & Fabricating prosthesis .
The Dental Mechanics program is fully accredited by the Dental Council of India & curriculum is dictaed by the Paramedical Board of India . Most Dental Mechanics find Iucrative careers in Dental Laboratories , clinics & hospitals.