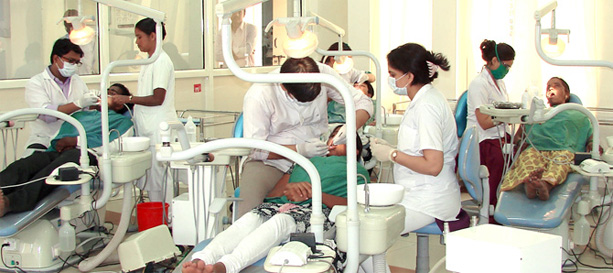 Rural Dental College - Infrastructure Available
Campus:

Unitary Campus for hospital and college
Area: 120 acres of land having room for further expansion.



Administration block:

Total built up area of the college: 1,40,536 sq.mtrs.
Surrounded by greeneries and lawns.

Central Library:

Spacious Reading rooms with sitting capacity of 350 students, well lighted and ventilated
No. of Books - 11,836
No. of Journals subscribed annually -151 ( Indian 86 Foreign 65) With back volumes
Online medlar information database are available on internet through broadband connectivity. (Separate A/C rooms)
Medline CDs on standalone module basis
Xerox and Photo copy facility

More Details of Library Click here....
Lecture Theatres:

4 Lecture Hall in college
Total seating capacity 110- 140 each.
Seminar Room attached to each department
Demonstration Halls, Museums, One dissection and one histo-pathology hall in Medical College.
Common Rooms and Lockers for Boys & Girls are available
Implantology Department

Auditorium

Mini auditorium with capacity of 450 with central AC & balcony

Instrument & Equipments

Total Dental Chairs = 340
For Undergraduate purpose – 251
For Postgraduate purpose - 89
Over Head Projector available in each department
Slide Projector – 03 Nos.
LCD Projector – 04 Nos
Video Recorder \Video Camera
Digital Camera - All departments.

Special Equipments

Casting Machine
Periapical X- ray Unit.
Cephalostat
Panorex
Implant Kit Physio dispenser
Surgical Saw (W&H)
Digital Centrifuge Machine
Fiberoptic Light Source
Surgical Handpiece(Osciomat)
RVG System
Extra Oral X-ray Machine
Automatic Radiographic film processor
Intra Oral Camera
Florida Probe
Perio Test
Bio Star
Hydro Shoulder
Cone Beam Computed Tomography (CBCT)
Digital OPG with Cephalostat
TENS
RVG
Extraoral Radiographic Unit

Laboratories

Prosthetic Lab
Ceramic Lab
Oral Pathology & Microbiology Lab

Central Photographic section & Audio Visual Section:

Modern and well equipped with facilities of studio, dark room etc.

Central Workshop

Well equipped independent workshops for repair of mechanical, electronics & electrical equipments.

Statistical Unit:
Medical Education Unit :

Dept is equipped with adequate facilities.
Internal connectivity for staff.

Intercom Network :

Entire campus is provided with intercom facility

Playground of Gymnasium:

Facilities for following sports activities.Lawn tennis court, Badminton court , Basketball court, volley ball, Football, Table tennis and swimming pool of Olympic standard
Modern Gymnasium.
Physical Education instructor.

Electricity

Continuous electricity supply for the campus with 500 KV Generator.

Sanitation & Water supply

Adequate sanitary facilities
Safe and continuous water supply .