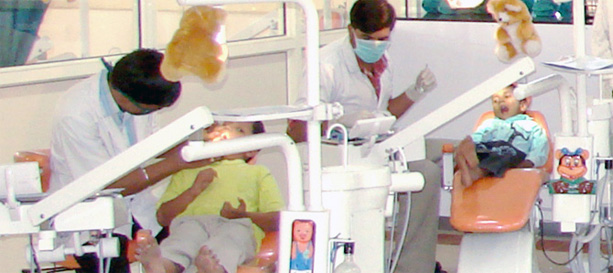 Department of Pedodontics & Preventive Dentistry
Pedodontics is an age defined specialty that provides primary and comprehensive, Preventive and Therapeutic oral health care for infants and Children through adolescence, including those with special health care needs.
Department of Pedodontics and Preventive dentistry at the Rural Dental College and Hospital, Loni Offers graduate programme leading to Bachelor of Dental Surgery awarded by the Pravara Institute of Medical Sciences, Deemed University, This graduate course is approved and accredited by Dental Council of India. Department would be soon starting with the post graduate training course.
The implicit in the philosophy of children's dentistry is a commitment to consider the child's feelings, to gain the child's confidence and co-operation to perform the treatment in kind and sympathetic manner, to be concerned with not only providing the treatment currently required but also promoting child's future dental health by stimulating the attitude and behavior regarding dental care.
Goal of The Department
Upon completion of this course the student should be able to.
Identify and differentiate between normal and abnormal somatic dento- facial and psychological growth and development.
Understand child behavior and anxiety and be able to communicate and manage children showing apprehension and moderately disruptive behavior using behavioral and pharmacotherapeutic techniques
Develop and accurate database from child and parent information and formulate an accurate diagnosis
Diagnose and plan appropriate therapy for common oral health problems in children
Provide treatment for mental, physical and emotionally handicapped children and also for the medically compromised patients.
Recognize and manage medical emergencies commonly encountered in children and adolescent undergoing treatment.
Develop a preventive program for an individual patient.
Make appropriate referrals.

Teaching Activity of the Department
Faculty of the department is committed towards an excellence in teaching schedules. At present student to teacher ratio is 4:1 Each faculty member spends an average of 5-6 hours daily with the students.
There is provision of three classes per week for the III B.D.S Students and three classes per week for the IV B.D.S students.
Students are assessed from time to time by internal assessment exams. Case discussions, demonstrations, group discussions, viva, seminars and Journal completion.
Aims
To promote physical, mental, psychological and dental health of the child.
To note any aberrant alterations in development of child.
To improve the dental health in accord to the general health.
To encourage the dental profession at all levels to ensure that the younger generation in future will require less dental treatment.
Objectives
Maintain functioning . esthetics and arch integrity of the primary dentition.
Treatment and prevention of dental caries in primary and young permanent teeth.
Child dental health care education to parents.