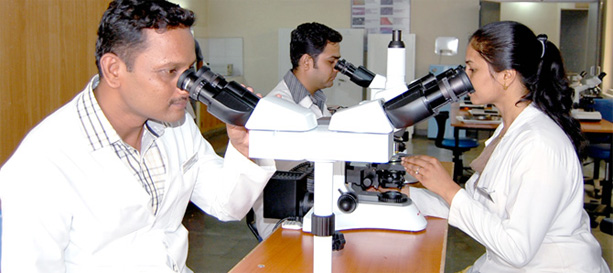 Department of Oral Pathology & Microbiology
Oral pathology is that part of pathology and a branch of dentistry concerned with the scientific study of the causes and effects of oral disease an understanding of which is essential for diagnosis and for the development of rational treatment and preventive programmes.
One of the most important purposes of oral pathology is to give the student the ability to correctly diagnose oral lesions. There are more than 200 different types of diseases that affect the oral cavity, & many of these can only be diagnosed through microscopic examination.
The Clinical appearance and history of oral lesions, however can often give the clinician a reriable provisional diagnosis on which he/she can plan further management of the patient. Oral diagnosis is based on sound knowledge of oral pathology and is essential for good clinical practice.
Goals of the department
The goal of the oral pathology department is to provide basic knowledge of Normal Dental Anatomy and Histology and it's pathological form for improved understanding of the oral diseases and increased skill in it's diagnosis.
To transform the nature of dental education and practice in ways that will dramatically improve the way we serve our patients, & the surrounding community.
Teaching Programs
The educational programs in Oral Pathology are extensive with courses for dental students & interns.

Mission and Vision
To faster the development of dentists who will bring profound integrity and ethical character to every endeavor, while demonstrating the highest quality clinical knowledge and expertise.
The students should achieve academic excellence, provide the best oral health care, & engage in research, scholarship, & creative endeavors to improve the health of the highly diverse populations in India. Undergraduate section in oral pathology for Dental students-
The programme provides lectures, seminars and practicals for 2nd Yr & 3rd Yr. Students . The students are trained in normal tooth anatomy and histology by lectures, practicals and seminars. Practical includes Wax carving and microscopic slides.
This enable the student to understand the normal tooth anatomy & it's conversion into pathological Form.
The present day anatomy effects a long history of interaction with many clinical and basic sciences anthropology, endodontics, forensics, orthodontics & pediatric dentistry to name a few.
Students are limited to identification of Normal tooth and surrounding structure slides and carving of normal tooth anatomy in 2nd Years and it's conversion into pathological form in various oral diseases in 3rd year respectively.
Interns are trained in preparation of ground section of teeth and assist in oral research work by finding causes, taking case histories.