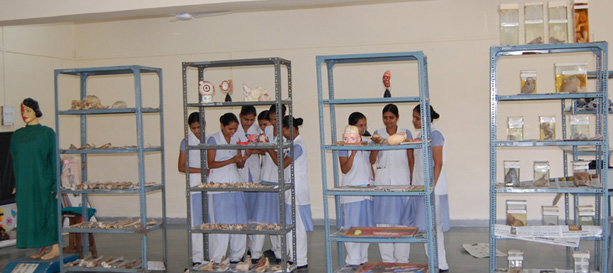 Smt. Sindhutai Eknathrao Vikhe Patil College of Nursing - Infrastructure Details
Campus & Administration block:

The Smt. Sindhutai Eknathrao Vikhe Patil College of Nursing is housed in a separate two storied building constructed as per the norms of Nursing Council of India.
The total build-up area is 1647.21 sq.meters. The building consists of offices of the Principal and Administrative Officer & Staff Room & Students' Section. There are 12 lecture hall adequately furnished for a capacity of 50 students. There are various labs such as Nursing Art lab, Nutrition lab, Anatomy & Physiology Labs, Community and A.V. aid Labs. There is students' Common Room & Seminar Hall.
The building and facilities (Lecture Halls, Dissection Hall, Museum, Laboratories) of PMT's Dr. Balasaheb Vikhe Patil Rural Medical College, which is located adjacent to the Smt. Sindhutai Eknathrao Vikhe Patil College of Nursing are also being utilized.




Clinical Experience- Hospital & Community :

The clinical experience is being imparted at the Dr. Vitthalrao Vikhe Patil Pravara Rural Hospital ( 760 beded Multi-specialty teaching Hospital which includes Eight Suit O.T. Complex, ICCU, ICU , Advanced Grade-II level Neonatal Unit, Pediatric Cardiac Surgery Unit, Trauma Unit and all OPD & Counseling services) which is recognized by Medical Council of India for Post Graduate Training in Medical Sciences in the campus. Pravaranagar is selected for Urban Public Health experience and Kolhar is selected for Rural Public Health Experience. Both localities are in Ahmednagar district.




Central Library:

Spacious reading rooms with sitting capacity of 350 students, well lighted and ventilated
No. Of books - 15,000.
No of journals subscribed annually-251 (Indian 86 foreign 65) with back volumes
Online medlar information database are available on internal through VSAT (Separate A/C rooms)
Medline CDs on stand alone module basis
Xerox and photo copy facility
Physiotherapy library section separate departmental library


More Details Click Here....


A/V Aid :

Demonstration halls, museums, one dissection and one histopathology hall in Medical College.
OHP 3
Slide Projector 2
LCD Projector 3




Auditorium

Mini auditorium with capacity of 450 with central AC and balcony




Examination Halls

4 Examination halls with total sitting capacity of 260 students




Central Photographic section & Audio Visual Section:

Modern and well equipped with facilities of studio, dark room etc.




Statistical Unit:


Medical Education Unit :

Dept is equipped with adequate facilities.
Internal connectivity for staff.




Intercom Network :

Entire campus is provided with intercom facility




Playground of Gymnasium:

Facilities for following sports activities.Lawn tennis court, Badminton court , Basketball court, volley ball, Football, Table tennis and swimming pool of Olympic standard
Modern Gymnasium.
Physical Education instructor.




Electricity

Continuous electricity supply for the campus with 500 KV Generator.




Sanitation & Water supply

Adequate sanitary facilities
Safe and continuous water supply .