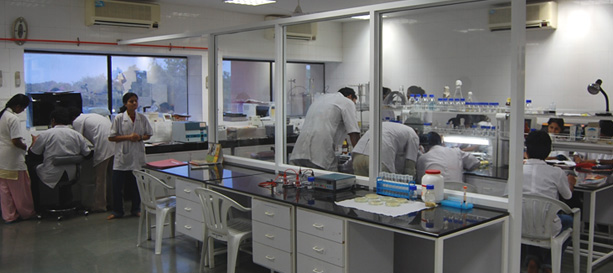 College of Biosciences and Technology Infrastructure Details
Campus:

Unitary campus for hospital and college
Area: 120 acres of land having room for further expansion

Administration block:

Total built up area of the college: 19315sq.ft.(Biotechnology college)
Total built up area of the hospital: 240 sq. mtrs.
Surrounded by greeneries and lawns

Central Library:

Spacious reading rooms with sitting capacity of 350 students, well lighted and ventilated
No. Of books- 11,836. Biotechnology-417
No of journals subscribed annually-251 (Indian 86 foreign 65) with back volumes
Biotechnology - 06 National & International
Online mediar information database are available on internal through VSAT (Separate A/C rooms)
Medline CDs on stand alone module basis
Xerox and photo copy facility
Biotechnology library section separate departmental library (Books – 125)

Language Lab: The Central Library has a unique facility of language laboratory to assist students in improving English speaking skills and train the students in undertaking TOEFL and IELTS examination. More than 30 computer systems are installed in the lab to improve the English speaking, writing and Listening ability of the weaker students.
Lecture Theatres:

2 major lecture hall in college-Good acoustic, audio visual aids & microphone
Lecture halls of 30 student capacity
OHP-03
LCD-01
Xerox Machine-01

Auditorium
Mini auditorium with capacity of 450 with central AC and balcony
Examination Halls : 4 Examination halls with total sitting capacity of 260 students
Central Photographic section & Audio Visual Section: Modern and well equipped with facilities of studio, dark room etc.
Central Workshop : Well equipped independent workshops for repair of mechanical, electronics and electrical equipments
Laboratories -05 & Special Equipments

General Laboratory
Molecular Biology Laboratory
Animal Tissue culture Laboratory
Plant Tissue culture Laboratory
Bioinformatics Laboratory
Biotechnology labs are well equipped with state of art facilities to support quality learning and advanced research.
Special equipments:

PCR
Kodak Image station
Biosafety cabinet
HPLC
Lyophilizer
ELISA Reader
CO2 Incubator
Deep freezer (-800C)
Inverted Microscope
Gas chromatography
Fermentor
Environmental Growth Chamber
Electrophoresis units

Animal House:

CPCSEA approval Central Animal House.
Total area 8250 sq. fit.
Breeding and supply of animals.
Facilities for animal experiment and research.

Statistical Unit: Computerized
Medical Education Unit:

Dept is equipped with adequate facilities.
Internal connectivity for staff.

Intercom Network : Entire campus is provided with intercom facility
Playground of Gymnasium:

Facilities for following sports activities. Lawn tennis court, Badminton court , Basketball court, volley ball, Football, Table tennis and swimming pool of Olympic standard
Modern Gymnasium.
Physical Education instructor.

Electricity - Continuous electricity supply for the campus with 500 KV Generator.
Sanitation & Water supply

Adequate sanitary facilities
Safe and continuous water supply.