Alumni Association of PIMS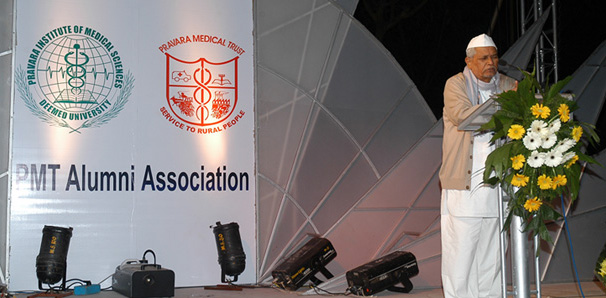 Alumni Association of Pravara Institute of Medical Sciences has been formed and registered with the following Aims and objectives;
To communicate on regular basis with the members of the Alumni and the University keeping mutually informed the developments of the Alumni as well as the University.
To foster more extended relationship between present student and staff and the others associated with the University.
To organize, social, educational and networking events locally at the University, college/Institution/School/center and at batch level.
To encourage Alumni to act as ambassadors of the University and assist in the further Development of the University.
To perpetuate friendships formed in University and establish camaraderie and fellowship between all generations of students.
To provide continuing education enrichment experience for alumni and friends of the University
To provide for the Alumni platform to connect to University and to assist recent graduates and current students in shaping their career.
To promote the relationship and better understanding among Alumni, current students and faculty of all the departments.
To participate in activities contributing to improvement of infrastructure and academic activities of the University.
To institute prizes, scholarships to merit students and financial aid to poor and deserving students of the University.
To hold periodical meetings at local, Regional, National and International levels and at University, college and batch level.
To raise funds for promotion of objectives of the Association.
To do all other things incidental or conductive to the attainment of the above objects.
Membership
Any Graduate and Postgraduate (Degree/Diploma), or Post Doctoral Degree or Diploma or Certificate student having passed from the institutions run by either "Pravara Institute of Medical Sciences, Deemed University" or the institutions run by 'Pravara Medical Trust' shall be eligible to become Alumni members of the Association with Voting Rights. There are three types of membership for Ex-Students.
Alumni Life Members (ALM) :

The Alumni member who pays one time subscription of Rs.5000/- shall be Alumni Life Member (ALM)
Has voting rights.

Alumni Associate Members (AAM) :

The Alumni member who pays Annual Subscription of Rs. 1000/-, shall be Alumni Associate Member (AAM)
Has voting rights if annual subscription is paid.

Alumni Life Patron Members (ALPM) :

Alumni Members, who pay Donation, in cash or kind worth Rs.20,000/- or more shall be Alumni Life Patron Members (ALPM)
Such Alumni Members will not pay Rs. 5000/- one time subscription of Alumni Life Member.
Alumni Members, who has already paid Rs. 5000/-, one time subscription can become Alumni Life Patron Member (ALPM) by donating cash or kind worth Rs. 15,000/- or more
Has voting rights.
Honorary Members
Present or Past faculty of the Institutions run by PMT/PIMS, and their associate organizations, who pay annual subscription of Rs. 500/-, are eligible to become an Honorary Member (HM).
These members will have no voting rights.
However they shall be eligible to derive benefits of the membership notified from time to time.
The Patron Members
The Donors, Philanthropist, Sponsors who pay donation in cash or kind worth Rs. 20,000 or above are eligible to become The Patron Members (TPM) for the period of five years.
The patron members shall drive the notified benefits from time to time.
They are not eligible to vote.