Developing A Multi-Sectoral Approach Model
for Sustainable Health & Development (Sponsored by SIDA)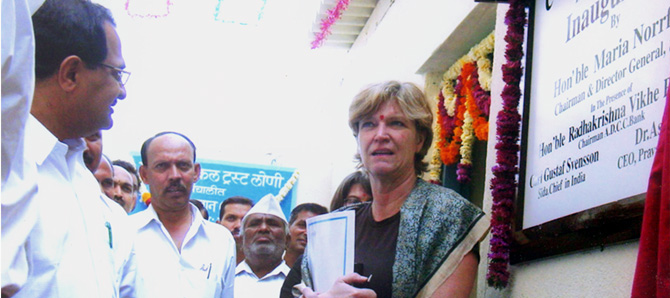 " Developing A Multi-Sectoral Approach Model
for Sustainable Health & Development"
Sponsored by: Swedish International Development Cooperation Agency (Sida)
Pravara Medical Trust, Loni in collaboration with Linkoping University, County Council of Osterogoland and University of Skovde, Sweden designed a unique " Multisectoral Approach Model for sustainable health & development in 235 selected villages of Ahmednagar district, Maharashtra ". The model will be developed and tested in the target area for three years (2006-2009) with an estimated cost of 12.5 crores Major contribution to the tune of 7 crores has been committed by Swedish International Development Cooperation Agency(Sida),Sweden for the Project.
The services of the Model will be available to 235 villages covering a population of 400,000,belonging to drought-prone and tribal talukas namely Shrirampur ,Rahata ,Sangamner ,Shevgaon and Akole of Ahmednagar district, Maharashtra . The direct beneficiaries of the Project would be vulnerable sections of society – women ,children, adolescents & youth, indigenous & poor people and public at large.
The Project aims at improving the maternal, child & adolescent health status through increased access to health care on Swedish pattern, promoting e-health for improved health care delivery and empowerment of people, bringing socio-cultural behavioral changes in personal and environmental hygiene & sexual and reproductive health rights including safe abortion and HIV/AIDS, and gender equity and male participation, and research in transgenic plants, quality of breast milk and awareness for low cost locally available nutrition rich food for improving nutritional status of women and children and low cost herbal remedies for control of viral infections.
The major intervention areas and activities of the model include
Improvement of Services
Provision of maternal & child health (MCH) care, emergency obstetrical & new born care and primary health care at village level on Swedish Pattern
Gender inequality & Socio cultural Aspects
Raise awareness, bring behavioral changes and organize advocacy ,counseling and empowerment activities at individual(health workers and target group-school teachers, farmers, religious leaders, opinion leaders , women activists ) & community level with regard to health environment, gender equity , sexual & reproductive health rights of youth, and HIV/AIDS.
Awareness Generation
Capacity building (training/workshops), Awareness generation & Empowerment
Nutrition
Research in Biotechnology (stress tolerant & salt resistant crops, breast milk, propagation of local foods rich in nutrition and low cost herbal remedies)
e-Health
e-health to improve access to health care, empower for better utilization of resources, and welfare schemes of the government
^TOP
Project Partners
Pravara Medical Trust (PMT), Loni, India
University of Linkoping (LiU), Sweden
County Council of Osterogotland (CCO), Sweden
University of Skovde (UoS), Sweden
^TOP
Collaborating Partners
Government of Maharashtra, India

Medical Services (Dist. Civil Surgeon, Rural Hospitals)
Health & Sanitation (DHO & BDOs)
Social, Women and Child Welfare Dept. (ICDS, DWACRA)
Rural Development & Poverty Alleviation (DRDA, TRYSM)
Education (Higher Secondary Schools, Colleges)
Agriculture & Biotechnology
Tele-communications (BSNL)



Pravara Institute of Medical Sciences-DU, Loni
Yeshwantrao Bhangre Memorial Trust, Akole
Medical Mission Secular Institute (Nityaseva Hospital), Shevgaon
PIERNS, Krishi Vigyan Kendra, Babhaleshwar
Other Sida Partners (MAMTA,IIM, Ahmedabad Aadhar, Lawyers Collective etc)
Community Based Organizations (PRIs, Mahila Mandals, Farmers Clubs, Youth Clubs etc)
Other like minded organizations – Andhasradha Nirmulan Samiti, Vysana Vimukti Samiti etc